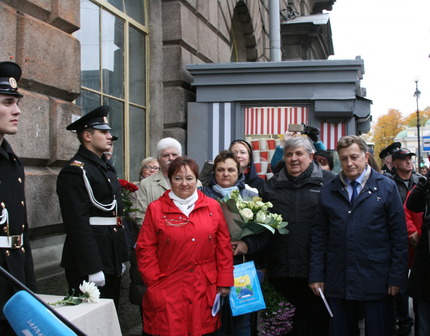 15.10.2018
Captain Oganov memorial plaque unveiled in St. Petersburg
The memorial plaque dedicated to the sea captain Aram Mikhailovich Oganov, who was a Hero of Social Labour, was opened yesterday in St.Petersburg. The memorial sign was posted on the wall of the Building A, on 184 Nevsky Prospekt. Here the famous seafarer lived till 2008.
In the ceremony took part the chairman of the St.Petersburg Legislative Assembly Vyacheslav Makarov, the head of Central District Administration Andrey Khlutkov, the chairman at the SUR's Baltic Territorial Organization Alexander Bodnya, the representatives of former Baltic Shipping Company (BSC) and Admiral Makarov State University of Maritime and Inland Shipping, the Aram Oganov' s colleagues, his daughters Marina and Tamara and also his blood brother Boris.
It should be noted that St. Petersburg, known as a maritime capital of Russia, hasn't any memorial sign in honour of the seafarers of merchant fleet. But now this historical injustice has been resolved.
"Today we will open a memorial plaque dedicated to the man of legend fate and heroic profession. Aram Mikhailovich was in command of ships heading to Montreal and New York from Leningrad through Atlantic Ocean. As a true Captain he always foresaw the worst and complex situations and in such moments he made the informed and right decisions", Vyacheslav Makarov pointed out.
Read more ...