MLC Amendments in Action
13.10.2017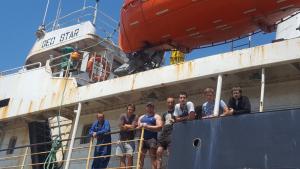 The crew of the vessel Geo Star (flag of Togo, IMO 7833107) detained in the Romanian port of Constanta in late January 2017 have finally returned home. Repatriation of seafarers was possible thanks to insurance issued in accordance with the new requirements of the Maritime Labor Convention, 2006 (MLC). Olga Ananyina, the International Transport Workers' Federation (ITF) Inspector in Novorossiysk, says that this is the first case of application of the new amendments to MLC since their entry into force.
The vessel Geo Star arrived in Romania on 29 January this year with a cargo of grain. During the inspection, the Port State Control (PSC) officers revealed about 20 violations on board, not to mention the wage arrears which exceeded $ 140,000 US. PSC representatives decided to detain the ship until the shipowner remedied all the shortcomings. It is noteworthy that after the detention the company stopped communicating and simply abandoned its seafarers.
– ITF, together with the Romanian Seafarers' Free Union, took necessary measures to maintain the minimum living conditions on board and helped the seamen to commence litigation before court to recover their outstanding wages. At the same time, we contacted Rosgosstrakh, the company that issued insurance for the financial responsibility of the shipowner, – says ITF Inspector in Romania Adrian Mihalcioiu.
The SUR has also been engaged in the case: Union's legal experts sent a notice to Rosgosstrakh General Director with a request to take the necessary measures for the speedy fulfillment of obligations on the insured event. The last letter from the insurance Company was received by the SUR on 25 September stating that the process of repatriation has finally begun.
– The process became overly lengthy as the insurance Company, misinterpreting the provisions of the MLC, demanded the results of an official investigation by port authorities. When we proved to Rosgosstrakh the unlawful character of these demands, they began to refer to the fact that the crew did not made specific requests for repatriation, but only asked for a little help. As a result, we did manage to make sure the insurance Company fulfills its obligations, – says Madina Agrba, the SUR legal expert.
On 5 October, the vessel's crew, 8 Ukrainians and one Russian, were repatriated. The seafarers were partially paid the advance wages debt in the amount of $ 60,000 US. The remaining sum will be paid off through the sale of the vessel.
– The crew have not seen their families for more than a year and dwelt in horrific conditions. Many of them could not believe they would really come home soon. This case has clearly showed that the MLC is a powerful tool to protect seafarers' rights, – ITF notes.